---
(out-of-character)


The text below contains discussions or references written in an out-of-character style and it may be not canonical.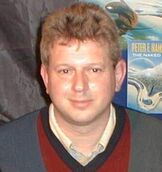 Peter F. Hamilton was born in Rutland in 1960, and now lives near Rutland Water (Britain). He began writing in 1987 and published the Night's Dawn trilogy between 1996 and 2001.
Peter got married in 2001 and he and his wife have have a young child.
External links
Ad blocker interference detected!
Wikia is a free-to-use site that makes money from advertising. We have a modified experience for viewers using ad blockers

Wikia is not accessible if you've made further modifications. Remove the custom ad blocker rule(s) and the page will load as expected.