Night's Dawn universe
Locations:
---
(Spoiler Warning)


The text below mentions events occured after
2611
and/or contains information relevant to the
plot
of the
trilogy
. Proceed at your own risk!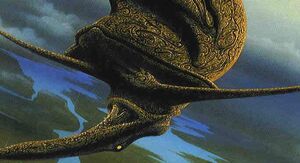 When Jay Hilton visits the Kiint home system, she sees many planets «similar to any of the Confederation's terracompatible planets.» She wonders: «A star with a necklace of inhabited planets! Thousands would be needed to make up such a circle.». Nang and Lieria then explain that Jobis is just a science outpost, and that the Kiint home system is in another galaxy. (tNG:2)
Apart from the planet where Haile brings Jay to, also the retired observers' world is located in the Kiint home system. (tNG:2)
Ad blocker interference detected!
Wikia is a free-to-use site that makes money from advertising. We have a modified experience for viewers using ad blockers

Wikia is not accessible if you've made further modifications. Remove the custom ad blocker rule(s) and the page will load as expected.