---
(out-of-character)


The text below contains discussions or references written in an out-of-character style and it may be not canonical.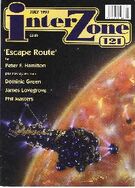 "Escape Route" (geek code for quoting and reference: ER) is the seventh and last short story in the Second Chance at Eden book. The plot takes place in 2586, and is set around Lady Macbeth's last flight with Marcus Calvert.
Featured also in:
Interzone 121 (July 1997; eponymous artwork cover by Dominic Harman),
Year's Best Science Fiction 15 (ed. Gardner Dozois) and
Best Of The New Stuff (ed. Gardner Dozois).
External links
About "Escape Route", at the official website. Includes PFH's comment!